This idea did not advance past the phase.
Calgary Hybrid
Category
New
Industry
Cannabis/Healthcare
Description
Overview:
This company will be formed under a joint venture with Aurora Cannabis Inc, an Alberta licensed producer of medical cannabis pursuant to Health Canada's Access to Cannabis for Medical Purposes Regulations ("ACMPR"), for a large-scale, high-quality, GMP certified, low-cost cannabis production in a 250,000 sq. ft. hybrid greenhouse.
The lottory money will be used to built a hybrid greenhouse in collaboration with Aurora Cannabis Inc, the facility will use the power of sun and supplemental light to create high-yield and pharmaceutical-grade cannabis for medical and potential recreational purposes. The facility will also include a fulfillment center, an extraction lab, office spaces, and a level 10 vault to store the products.
The company will produce cannabis for medical purposes and potential recreational use under the Cannabis Act and ACMPR. For medical purposes, the products will be wholesale to Aurora Cannabis Inc and distrubted to their 20000+ patients. For potential receational market, the products will be wholesale to Calgary's private retailers under Alberta's cannabis retail rules.
The size of cannabis industry in Canada: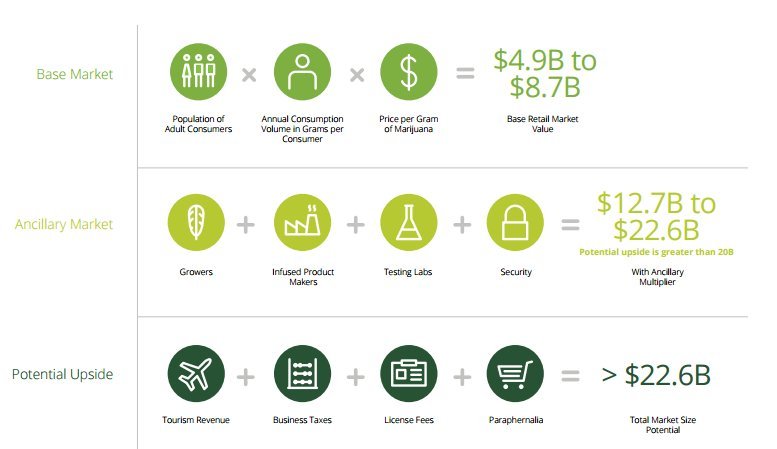 (Chart: Deloitte)
With a popluation of 1.3 million in Calgary, we have the opportunity to take up 3-4% of the industry within the city. The company will also have the opportunity to supply other provinces to meet the demand of cannabis for upcoming legalization.
Highlight about the company:
Low cost production - Alberta has low energy and water costs compare to other provinces in Canada.
Distribution - The facility will be located near the Calgary International Airport, makes it easier to transport the product to other provinces and for global distribution to countries where cannabis is federally legal for medical use, such as Germany and Australia. 
Jobs creation - The facility expects to add 100+ jobs to Calgary. That includes growers, customer service, security, order fulfillment, corporate postions, operations, human resources and much more!
Training - The company will also pursue a collaberation with the Southern Alberta Institute of Technology (SAIT) to provide cultivation training program/curriculum related to cannabis industry.
Education - A portion of the revenue from the company will also be used to provide education to Calgarian; educate and commuincate with youth to help them make healthy, responsible decisions about cannabis use. In this way, we can decrease the rate of cannabis-impaired driving and cut down the cost of law enforcement once cannabis is legalized for recreational use in Calgary.
Researches - The company will also provide health professionals the supply of cannabinoid for medical research purposes, such as studies and clinical trials. It opens up a new area of study in universities and schools in Calgary.
This hybrid greenhouse will not only boost Calgary's economy, but also allows Calgary to be one of the city to supply and meet the demand of the growing cannabis industry, both nationally and gobally.
Tags
Previous
Next
---